Digital Approach towards Community-Based Activities with Culture and Heritage during COVID-19: Knowledge Transfer A Narrative Experience
Keywords:
cultural heritage, sustainability, conservation, COVID-19 pandemic, knowledge transfer
Abstract
Culture and heritage activities have always relied heavily on assembling a group of people to bring the event to life. However, during the pandemic COVID-19, these events cannot be held due to the restrictions and the danger it could bring in spreading the diseases. As a result, new options should be made available to ensure that cultural and heritage activities can continue in the face of adversity. This study describes the researcher's experience in a knowledge transfer project on the long-term sustainability and conservation of community-based cultural and heritage activities during the COVID-19 epidemic. To preserve and sustain cultural activities, the article suggests a digital approach to culture and heritage activities. The research is based on the researcher's observations and fieldwork experience. The result indicated that Lambo Sari and the research team kept track of each participant's progress during the monitoring phase, which was the fourth step of this effort. In addition, the WhatsApp messaging service was used to track the project leader's core communication with the participants. Apart from the monitoring phase, the fifth phase consists of a webinar delivered by the researcher and team to the general public and participants to increase awareness about the importance of cultural and historical preservation. In conclusion, cultural heritage conservation has been rendered extremely difficult due to the epidemic. If physical preservation of cultural heritage was done back then, revolutionization is required to stay up with the present period and make use of new technologies.
References
Aisyah, S. et al. (2018). Teknologi Pemprosesan Batik Melayu di Kelantan', Jurnal Wacana Sarjana, 2(2), pp. 1–8. Available at: https://spaj.ukm.my/jws/index.php/jws/article/view/153 (Accessed: 29 December 2021).
American Kitefliers Association (2021). Kite History. Available at: https://www.nationalkitemonth.org/kite-history-overview/kite-history/ (Accessed: December 29 2021).
Cambridge University Press (2021) EXPERT | meaning in the Cambridge English Dictionary, Cambridge University Press. Available at: https://dictionary.cambridge.org/dictionary/english/expert (Accessed: December 30 2021).
Crawford, G., & Hancock, D. (2019). Cosplay and the art of play: Exploring sub-culture through art. Springer. doi: 10.1007/978-3-030-15966-5.
Fatin Nur Wahida Idris (2019). Kajian Kerja-Kerja Konservasi Pembinaan Semula Kota Lama Duyung di Terengganu oleh Lembaga Muzium Negeri Terengganu (Doctoral dissertation, Universiti Malaysia Kelantan).
Harrison, R. (2015). Beyond "natural" and "cultural" heritage: Toward an ontological politics of heritage in the age of Anthropocene. Heritage & society, 8(1), 24-42.
Du Cros, H. (2001). A new model to assist in planning for sustainable cultural heritage tourism. International journal of tourism research, 3(2), 165-170.
Lusianti, L. P., & Rani, F. (2012). Model diplomasi indonesia terhadap unesco dalam mematenkan batik sebagai warisan budaya indonesia tahun 2009. Transnasional, 3(2), 1-19.
Lypak, H. et al. (2019) 'Modern Information Technologies for Preservation and Presentation of Historical and Cultural Heritage at Small Museums', 2019 9th International Conference on Advanced Computer Information Technologies, ACIT 2019 - Proceedings, pp. 483–486. doi: 10.1109/ACITT.2019.8779989.
Mah, O. B. P. et al. (2019). Generating a virtual tour for the preservation of the (in) tangible cultural heritage of Tampines Chinese Temple in Singapore. Journal of Cultural Heritage, 39, 202-211. doi: 10.1016/J.CULHER.2019.04.004.
Mohd Sidek, M. Z. (2019) WAU - IDENTITI BANGSA. Available at: https://zulfadlisidek-uum.blogspot.com/2019/04/wau-identiti-bangsa.html (Accessed: December 29 2021).
Mokhtar, M. F. and Kasim, A. (2011) 'Muzium dan memori: Wadah generasi Y menghargai warisan bangsa'. Available at: http://www.jmm.gov.my/hma2011/?page_id=917 (Accessed: 30 December 2021).
Selmanović, E. et al. (2020) Improving Accessibility to Intangible Cultural Heritage Preservation Using Virtual Reality. Journal on Computing and Cultural Heritage, 13(2). doi: 10.1145/3377143.
Stringer, E. T., Agnello, M. F., Baldwin, S. C., Christensen, L. M., & Henry, D. L. P. (2014). Community-based ethnography: Breaking traditional boundaries of research, teaching, and learning. Psychology Press.
Nixon, A., & Odoyo, C. O. (2020). Ethnography, Its Strengths, Weaknesses and Its Application in Information Technology and Communication as a Research Design. Computer Science and Information Technology, 8(2), 50-56.
Pongsrirojana, C. (2021). Strategy management of Thai kite art and cultural revitalisation and preservation by participating in the Laksi communities, Bangkok, Thailand. Turkish Journal of Computer and Mathematics Education, 12(8), 2172-2179.
Shiri, A., Howard, D., & Farnel, S. (2021, May). Indigenous Digital Storytelling for Cultural Heritage Access and Preservation. In Proceedings of the Annual Conference of CAIS/Actes du congrès annuel de l'ACSI. https://doi.org/10.1080/10572317.2021.1946748.
Strydom, A. J., Mangope, D., & Henama, U. S. (2019). Making community-based tourism sustainable: Evidence from the Free State province, South Africa. Geo Journal of Tourism and Geosites, 24(1), 7-18.
UNESCO (2009) Cultural Selection: 'Batik for the World' Exhibition at UNESCO | Silk Roads Programme. Available at: https://en.unesco.org/silkroad/content/cultural-selection-batik-world-exhibition-unesco (Accessed: December 29 2021).
Upadhyay, U. D. and Lipkovich, H. (2020) 'Using online technologies to improve diversity and inclusion in cognitive interviews with young people', BMC Medical Research Methodology, 20(1), 1–10. doi: 10.1186/s12874-020-01024-9.
King, E. (2019). Costuming Cosplay: Dressing The Imagination, Dress Body Culture Series, Teresa M. Winge (2019). Studies in Costume & Performance, 4(2), 268-271.
Walter, P., Regmi, K. D., & Khanal, P. R. (2018). Host learning in community-based ecotourism in Nepal: The case of Sirubari and Ghalegaun homestays. Tourism management perspectives, 26, 49-58.
Zainuddin, A. (2021). Evolusi kreatif wau', Harian Metro. Available at: https://www.hmetro.com.my/rencana/2019/10/504028/evolusi-kreatif-wau (Accessed: December 29 2021).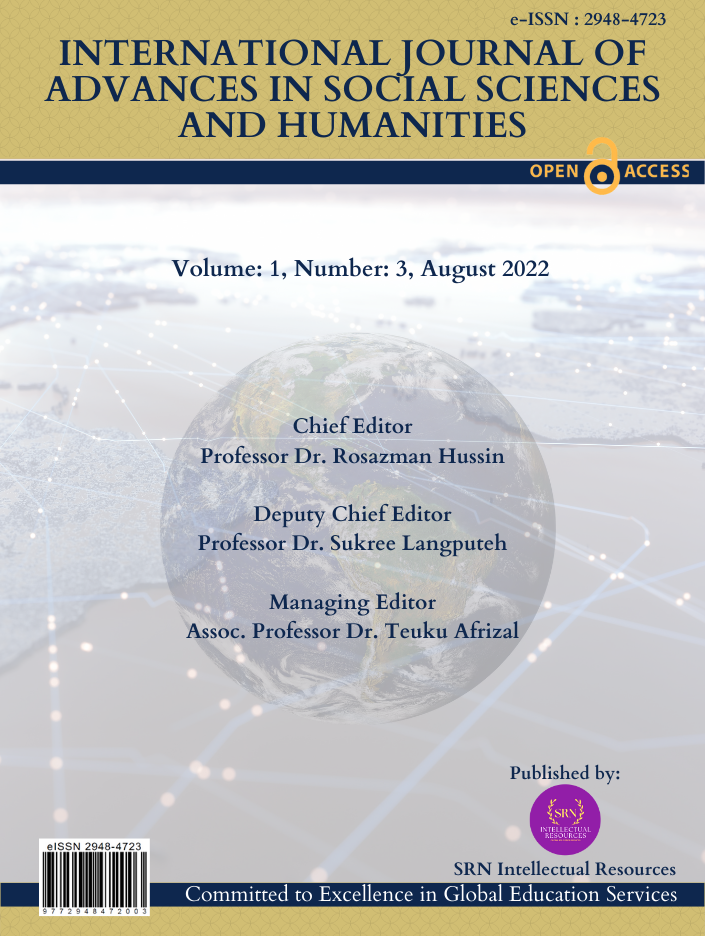 Downloads
How to Cite
Ismail, I. R., Mohamad, Z., Rashid, N. K. A., Manaf, N. A., Omar, K., Halim, M. A. S. A., Samsudin, H., & Yushriman, Y. S. (2022). Digital Approach towards Community-Based Activities with Culture and Heritage during COVID-19: Knowledge Transfer A Narrative Experience. International Journal of Advances in Social Sciences and Humanities, 1(3), 113–119. https://doi.org/10.56225/ijassh.v1i3.48
License
Copyright (c) 2022 Authors
This work is licensed under a Creative Commons Attribution 4.0 International License.
Copyright @2022. This is an open-access article distributed under the terms of the Creative Commons Attribution 4.0 International License (https://creativecommons.org/licenses/by/4.0/) which permits unrestricted to copy and redistribute the material in any medium or format, remix, transform, and build upon the material for any purpose, even commercially.

This work is licensed under a Creative Commons Attribution 4.0 International License.

Abstract viewed = 165 times