Motivational Impacts of the Google Docs Integration to Support Collaborative Writing: A Review Approach
Keywords:
motivation, collaboration, writing, Google Docs, a review approach
Abstract
In recent decades, various digital technology tools such as Google Docs, wikis, and other collaborative writing platforms have shifted the writing perspectives from product-based to process-based writing. Motivation is a crucial component in developing learners' writing skills. It is not feasible to study if one lacks motivation. Therefore, the function of motivation in student learning is crucial to ensure effective writing among students. This paper presents a review of the current trends in the integration of Google Docs in collaborative writing. The review includes critical and analytical discussions on the motivational impact of using Google Docs to support collaborative writing. This study employed content analysis as a data analysis method. The findings show that Google Docs is beneficial to creating a supportive and motivating learning environment for learners. This paper suggests that more studies should be conducted to comprehensively explore the integration of Google Docs in collaborative writing in terms of learning outcomes and attitudes, particularly in the Malaysian higher education setting. Furthermore, examining studies on teachers' attitudes toward collaborative writing and Google Docs integration is highly advised.
References
Abrams, Z. I. (2019). Collaborative writing and text quality in Google Docs. Language Learning & Technology, 23(2), 22–42. https://doi.org/10125/44681
Akoto, M. (2021). Collaborative multimodal writing via Google Docs: Perceptions of French FL learners. Languages, 6(3), 140.
Al-Chibani, W. (2016). Impact on student motivation of integrating Google Docs within a remedial English writing class. Proceedings of the International Conference on Information Communication Technologies in Education, 333–340.
Aldossary, K. (2022). EFL Students' Perceptions of Google Docs as an Interactive Tool for Learning Writing. International Journal of English Linguistics, 12(2), 60–72.
Alharbi, M. A. (2020). Exploring the potential of Google Doc in facilitating innovative teaching and learning practices in an EFL writing course. Innovation in Language Learning and Teaching, 14(3), 227–242. https://doi.org/10.1080/17501229.2019.1572157
Alkhataba, E. H. A., Abdul-Hamid, S., & Ibrahim, B. (2018). Technology-supported online writing: an overview of six major web 2.0 tools for collaborative-online writing. Arab World English Journal, 9(1), 433–446.
Alsubaie, J., & Ashuraidah, A. (2017). Exploring Writing Individually and Collaboratively Using Google Docs in EFL Contexts. English Language Teaching, 10(10), 10–30.
Ardiasih, L. S., & Rasyid, Y. (2019). Online Collaborative Writing Technique Using Wiki: How Effective Is It to Enhance Learners' Essay Writing? Journal of Asia TEFL, 16(2), 531.
Bakar, N. A., & Som, A. P. M. (2016). A Sociocultural Theory to Learning: Malaysia's Experiences. Man in India, 16(12), 5285–5304.
Brown, H. D., & Abeywickrama, P. (2004). Language assessment. Principles and Classroom Practices. White Plains, NY: Pearson Education.
Dörnyei, Z. (2020). Innovations and challenges in language learning motivation. Routledge.
Ebener, S. (2017). Using Google tools to enhance secondary writing instruction. Graduate Research Papers, 135. https://scholarworks.uni.edu/grp/135
Faulkner, J. H. (2019). Google Docs as supportive technology in high school career and technical education. Walden University.
Jeong, K.-O. (2016). A study on the integration of Google Docs as a web-based collaborative learning platform in EFL writing instruction. Indian Journal of Science and Technology, 9(39), 1–7.
Lamb, M. (2017). The motivational dimension of language teaching. Language Teaching, 50(3), 301–346.
Liu, S. H.-J., & Lan, Y.-J. (2016). Social constructivist approach to web-based EFL learning: Collaboration, motivation, and perception on the use of Google Docs. Journal of Educational Technology & Society, 19(1), 171–186.
Mudawe, O. M. N. (2018). Google docs: potentials and promises for scaffolding supervisory pedagogical practices of EFL/ESL students' writing dissertation. Journal of Applied Linguistics and Language Research, 5(2), 192–206.
Sudrajat, W. N. A., & Purnawarman, P. (2019). Students' perceptions on the use of Google Docs as an online collaborative tool in translation class. Lingua Cultura, 13(3), 209–216. https://doi.org/10.21512/lc.v13i3.5969
Suwantarathip, O., & Wichadee, S. (2014). The Effects of Collaborative Writing Activity Using Google Docs on Students' Writing Abilities. Turkish Online Journal of Educational Technology-TOJET, 13(2), 148–156.
Woodrich, M. P., & Fan, Y. (2017). Google Docs as a tool for collaborative writing in the middle school classroom. Journal of Information Technology Education. Research, 16(1), 391. https://doi.org/10.28945/3870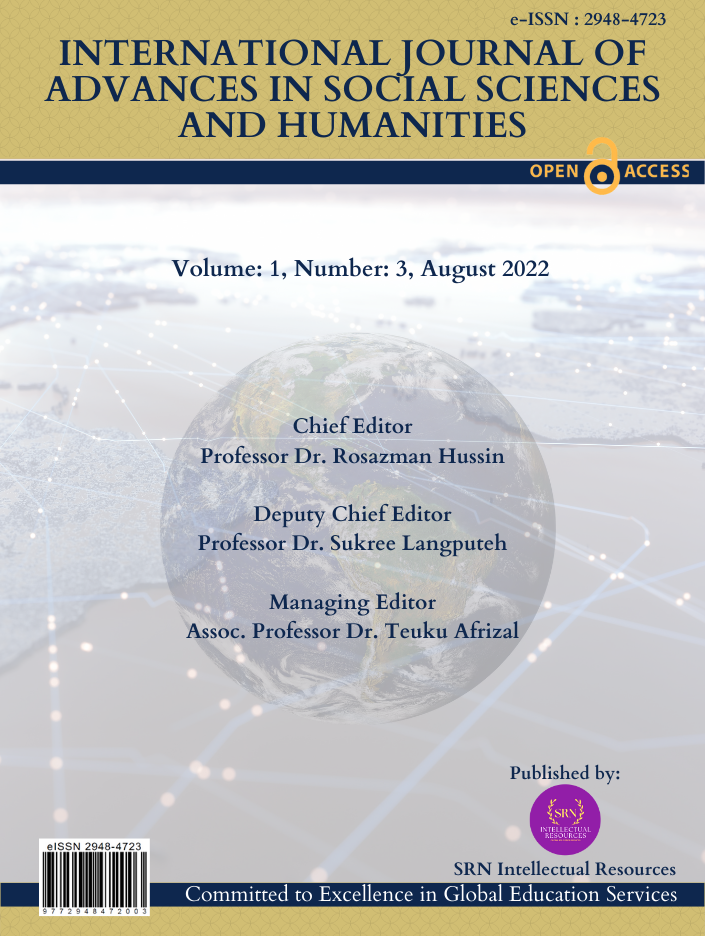 Downloads
How to Cite
Shahidan, S. N. ., Ali, Z., & Bakar, N. A. . (2022). Motivational Impacts of the Google Docs Integration to Support Collaborative Writing: A Review Approach. International Journal of Advances in Social Sciences and Humanities, 1(3), 166–171. https://doi.org/10.56225/ijassh.v1i3.54
License
Copyright (c) 2022 Authors
This work is licensed under a Creative Commons Attribution 4.0 International License.
Copyright @2022. This is an open-access article distributed under the terms of the Creative Commons Attribution 4.0 International License (https://creativecommons.org/licenses/by/4.0/) which permits unrestricted to copy and redistribute the material in any medium or format, remix, transform, and build upon the material for any purpose, even commercially.

This work is licensed under a Creative Commons Attribution 4.0 International License.

Abstract viewed = 201 times